Wednesday, May 29, 2019 - 15:40
paragraphs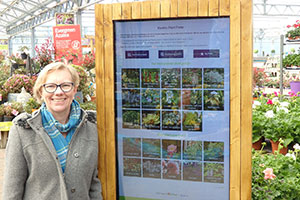 RESEARCH by the Office for National Statistics (2018) found 78% of adults use smartphones but according to one hi-tech horticultural company most garden centres are failing to engage with their tech-savvy customers.
The study found mobiles were the most popular devices across most age groups, apart from those aged 65 years plus, who preferred a tablet for internet shopping, entertainment and research purposes.
Terri Jones, Managing Director at Berkshire-based plant information company Joy of Plants, which provides Plant Finder Touchscreen Kiosks for garden centre's plant areas, said: "A high percentage of adults from Millennials to tech savvy Generation X and baby boomers are using touchscreens on a regular basis whether it be on their smartphones or tablets.
"They will be using them in a number of ways from shopping, socialising or research. These devices are part of their everyday lives so why not incorporate them into a retail environment? Creating a modern plant area to appeal to these tech savvy gardeners is key if garden centres want to develop and grow new markets.