Thursday, May 16, 2019 - 10:26
paragraphs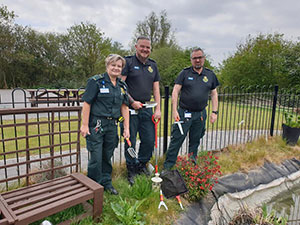 Leading garden tool supplier, WOLF-Garten, has donated a selection of high-quality tools to NHS staff for their communal garden, which is used to relax in after difficult call-outs.
The Chelmsford Ambulance Station, in Essex, reached out to the company asking for tool donations after it created a large pond and garden area late last year. The space is used by around 200 staff who work for the service.
To regenerate and expand the garden, staff were needing first-class, reliable tools to undertake basic daily tasks, such as weeding, planting and pond cleaning.
Emergency medical technician, Stuart Wilkinson, who has worked at the station for over five years has been at the forefront of this campaign. He also helped build the outdoor area at the station during his time on leave with PTSD.