Tuesday, July 31, 2018 - 14:40
The team at Haskins Garden Centre is celebrating after raising more than £16,500 last year for its nominated local and national charities.The garden centre group collaboratively raised funds for Greenfingers, a national charity dedicated to supporting children spending time in hospices around the UK, along with their families, by creating inspiring gardens for them to relax in and benefit from. Haskins organised centre raffles to raise funds for Greenfingers, as well as staff cake sales and donating all of its 5p sales from carrier bags.
Haskins employees raised funds and awareness for their centre's chosen charity by hosting events throughout the year as well as participating in individual charitable challenges. One example is Simon Hallam's participation in the Brighton Marathon last year.
Ferndown centre raised £4,548.03 for Dorset Mind
West End centre raised £2,563.26 for Countess Mountbatten Hospice
Roundstone centre raised £1,531.50 for Sussex Heart Charity
Snowhill centre raised £3,363.86 for Alzheimer's Society
The group raised £4,497 for Greenfingers
Simon is the Ferndown centre manager and commented: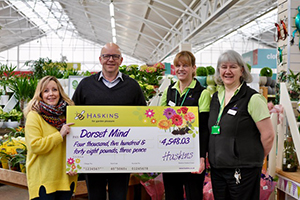 "Completing the Brighton Marathon for the charity was a personal highlight of the year. I raised £250 for Dorset Mind off the back of this challenge and I would like to thank everyone for their generous support."
Lisa Looker, brand director at Haskins Garden Centres, commented:
"We're so pleased with our charity totals and are very grateful to our loyal customers for getting involved with fundraising activities across our centres."
Haskins' nominated charities for 2018 are Autism Wessex (Ferndown centre), Silk Bow Foundation (West End centre), Wadars Animal Rescue (Roundstone centre) and Alzheimer's Society (Snowhill centre). The group will continue to support Greenfingers in addition to its individual nominations.
Lisa Looker added:
"Keep a look out for lots more fundraising events and activities throughout the year for our centres' nominated charities."
Jess Hillicks, West Sussex community fundraiser for Alzheimer's Society, commented:
"It's wonderful news that Haskins in Snowhill has chosen to fundraise for us for a second year. Dementia can happen to anyone and there is currently no cure. But with the right support, people can live well with dementia. As a charity, we rely on the generosity of organisations like Haskins to help us continue our vital work to continue leading the fight against dementia. Haskins staff and customers have raised an incredible amount of money in the last year and I can't wait to see what this year will bring."
Haskins has centres in Ferndown in Dorset, West End in Southampton and Roundstone and Snowhill in West Sussex. For more information please click here