Monday, February 12, 2018 - 16:25
Angela Slater from the Hayes Garden World website answers our questions on the Cumbrian gardening giant. With over a million visitors a year, Hayes has been trading for over 200 years and the family-run company has a rich history of proving supplies and services to a wealth of people – from locals and tourists to Queen Victoria!
What can people expect when they visit Hayes Garden World?
We are a year-round family experience with children well represented. Attractions, such as 'Fairy and Dragon World' proving a huge draw supported by a large toy department. The two catering outlets produce food for every taste with stunning views of the mountains from The Terrace Café, providing a wonderful introduction to the Lake District. We stock a huge variety of quality goods, not just aimed at gardeners, our gift department is the perfect spot to pick up that ideal present.  
Our displays of outdoor furniture and barbecues are one of the largest in north-west England and provide masses of inspiration as to what you can do with your outdoor space; be it a huge garden or just a small backyard. If space in the car is a problem then we can deliver many of the items to the UK mainland and Europe. Our staff are always willing to help if you are struggling to make a decision or if you just want a chat and some help with making the most of your outdoor space.
We have a huge outdoor plant area with thousands of specimens to choose from and our knowledgeable nursery staff are on hand to help you pick the right plant for the right situation. Our iconic Crystal Palace inspired houseplant department is packed with plants to suit any position in the house.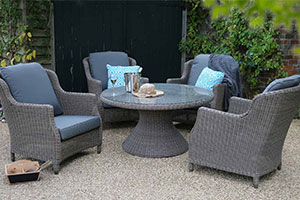 How many people visit Hayes Garden World per year?
We have approximately one million visitors a year; a mixture of locals and visitors to the Lake District. Not all come with the intention of shopping but just come to recharge, wander amongst the large selection of outdoor plants in lovely surroundings and have a coffee and one of our famous scones.
Which products are you finding are your best seller?
Barbecues are a huge seller for us, along with garden furniture as people are making more of their outdoor spaces and are looking for an extension to their indoor living area. Sales of the top quality ranges of garden furniture are improving as people realise that they are much better value, with quality construction, modern design and comfort being the key reasons for purchasing these sets. 
Sales of core gardening products continue to increase as customers become more aware that 'Growing your own' doesn't necessarily mean you have to have a huge garden and that the windowsill can still grow herbs and salad crops.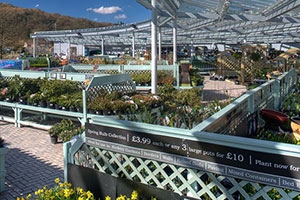 What should garden centres invest in if they want their business to grow?
Investing in giving the customer a more enjoyable experience in attractive surroundings and expanding the breadth and quality of ranges will always pay dividends. Attractions which encompass the whole family ensure that the customer spends longer in the centre. And of course a good cup of coffee and slice of delicious home-made cake will always be a draw, even if they don't buy anything else.
What are Hayes Garden World's priorities for 2018 and beyond?
Our priorities for the future are to improve the experience for the whole family with the children's events continuing to improve and expand. Our Four Seasons Terrace Café is set to expand by 150 seats so we should see the end of the queues for seats at peak periods. Our buyers are actively seeking out more unique products and we constantly collaborate with other independent garden centres to secure good deals on our core ranges in order to remain competitive. Updating and re-furbishing the shop and nursery is an on-going process as we strive to provide a pleasant environment for our customers.
Angela is the internet content provider for Hayes Garden World. See www.hayesgardenworld.co.uk for more information.