The first cut of the year may still be a few months away but homeowners should be starting to plan ahead and venture outdoors to get their gardens in tip top shape ahead of spring. UK gardening super brand, Flymo has highlighted the key tasks we should begin to tackle throughout the coming months…
FEBRUARY
After months of avoiding the cold and letting nature take its toll on our gardens it's time to take control.
Check your tools
The first thing on your list this month for gardening is tool maintenance. It's essential to check that gardening equipment hasn't been affected by the winter cold and are all still in a good working condition. Whether this means checking that your lawnmower blade is sharp for the season ahead or making sure that you have enough trimming line in your grass trimmer, it'll give you a head start.
Look after your greenery 
The weather can still be unpredictable throughout February and despite the temperatures rising ever so slightly it's important to continue to insulate and protect your shrubs and small bushes roots from freezing conditions. Applying a generous amount of mulch should do the trick.  
Clean out the Greenhouse
This is the perfect time of year to tidy and clean up your greenhouse ahead of the growing season. Use warm soapy water to clean the windows inside and out and remove any algae from the base and structure. Don't forget to clean all planters and pots to kill any harmful bacteria lurking in the bottom as it could attack your plants and herbs in the spring. 
Get ahead of the game and start/continue a compost heap 
Your garden will require fertilizer and nutrients throughout the year so starting a compost heap early will result in a large supply on hand to use as and when.  If you're a gardening novice the good news is that starting a compost heap requires no technical skill. It can be made from almost anything and simply calls for a shaded, grassy and dry spot. 
The key to creating a good compost heap is to layer the waste and ensure an equal mix of green and brown material including fallen leaves, dead flowers, paper, tree branches, and vegetable peelings to name a few. 
MARCH
As the weather begins to improve and temperatures start to slowly creep into double figures homeowners will see their gardens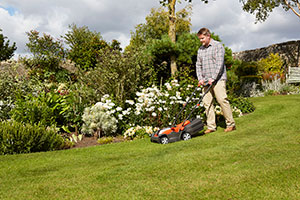 spring into life again. 
Put an end to the weeds
To get ahead of the weed-game, pull up the unsightly plants in your garden by their roots as soon as possible to avoid them growing and spreading. To eliminate the problem, lay sufficient weed killer to ensure that they don't appear again – in accordance with the instructions. It's best to avoid applying weed killer if it is forecast to rain as it will dilute the solution and affect the application. 
Stop moss in its tracks
As moss doesn't need a root to survive, it can grow anywhere and everywhere! It's a common problem in many outdoor spaces and is usually a clear indicator of poor garden or lawn health. Don't panic as the problem can be minimised within a week or so by simply applying a moss killer to the affected area and removing. Avoid raking the moss before it has fully died as you may be inadvertently spreading the problem around your garden.
Take stock and sow your seeds
If you haven't already, this is the time to plan and purchase all of the seeds you need for the year ahead. It's essential to check the seed packets to avoid missing the perfect weather conditions as many varieties of vegetables require planting in March.
images