How to care for teak furniture
Monday, March 2, 2020 - 14:15
Teak is a product of natural beauty and as such, no two examples are ever exactly the same. The unique blend of grain and colouring can vary from light to dark brown. Occasionally you may see a pinkish tint which is due to the kilning process and is particularly apparent on items that have been stored in cartons. On exposure to natural light, any colour variations will steadily even out. With time teak wood will gradually weather to a soft, silver grey.
Once teakwood has weathered, the colour will be enhanced by an annual scrub with soapy water to remove accumulated dirt. Alternatively, you may use a pressure hose with a fan or multi-nozzle jet, where a gauge is fitted it should be set to a pressure of 60-80 bar (900-1200
psi ). A distance of 15-20cm ( 6-8") should be maintained between the nozzle and the surface to be cleaned. Apply a constant gentle jet pressure using the lowest possible setting to achieve the desired result. Ignoring this advice and using too high a pressure could create a
rough surface. Due to the unique properties of teakwood your furniture will need no other care or treatment and will last for decades.
Small surface cracks may appear, this is a characteristic of all timbers and will not affect the strength or durability of the furniture. This is due to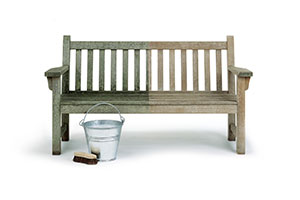 the changes in seasons and the wood releasing or drawing in moisture from the atmosphere.
Marks from spills on a table top, especially if they contain fat, should be avoided where possible, as they can be difficult to remove. Any such marks will eventually be washed out and bleached by the elements. However, this process may be accelerated by allowing the stain to soak into any absorbent material applied to it for a time under pressure and then rubbing with sandpaper.
Treating with teak oil or other preservatives is not needed to protect teakwood and will not extend the life of your furniture; its use is purely cosmetic. Oiling your furniture is not recommended because it creates unnecessary maintenance, but should you prefer to retain its original colour the following guide gets the best results:

•    Teak oil should be applied before the furniture begins to weather and change colour. 
•    Ensure the furniture is dry and free of any dust or dirt and apply one light coat of oil with a clean cloth or brush, wiping off any surplus. Teak oil should not be applied over accumulated oil or dirt as the result will be dark and the furniture will eventually blacken. If necessary, remove previous oil or dirt by vigorous scrubbing or use of a pressure hose. 
•    Re-oiling annually should be sufficient.

Learn more about teak furniture with Barlow Tyrie at www.teak.com or call 01376 557 600