Monday, November 25, 2019 - 12:38
Tom Chambers have announced the launch of a full range of Eco-friendly coco fibre liners developed with an innovative 'WaterSave' layer. This biodegradable material covers the bottom section of the liner and works as a reservoir to hold and retain water, meaning much less watering.
The liners also feature an integral built in over-spill which avoids over-watering and root saturation and allows excess water to drain away. The new liners are exclusive to Tom Chambers and are a new and exciting concept to the market.
The important message of using less water and being environmentally aware is communicated effectively to customers with the bold, informative labels and striking WaterSave logo.
The liners are available in several sizes for use in hanging baskets, window boxes and hayracks and retail from £2.99 - £14.99. A neat and compact display solution is available for all liners featuring the colourful and bold 'WaterSave' graphics.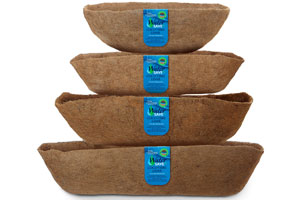 The beautiful new range of Lattice window boxes and planters which have been launched for 2020 include the new WaterSave liners as standard. The stunning new intricate lattice designs with detailed metal work make a very attractive product to enhance any garden wall or fence.
RRPs are in the range £9.99 - £26.99. A strong timber display stand with colourful graphics ensures a safe and impactful feature.
Tom Chambers is a family business with over 50 years' experience and has an enviable reputation for producing top quality products for the garden market. All new products are available for delivery from January 2020.