Thursday, October 31, 2019 - 14:10
Strong consumer demand for natural controls is underpinning confidence in the sector, says ecofective®
 
Ecofective®, the pioneering brand of environmentally friendly natural controls, reports that high levels of footfall in organic categories at retail outlets is seeing demand for chemical-free solutions gain rapid momentum – helping ecofective® to expand and develop its customer base.
 
The company, part of crop protection giant Sipcam UK, has reinforced its position as a leading supplier of natural plant feeds, pest controls, lawncare, weedkiller, animal repellent and garden cleaning products – sold under its ecofective® and RHS Garden Care ranges. Its new distribution partnership with Thompson & Morgan, which supplies over 60% of UK garden centres, will further boost the company's portfolio of environmentally friendly plant care products, bringing the ecofective® brand to a wider audience.
 
ecofective®'s Head of Sales, Nigel Thompson, said: "We've been having great conversations with both current and potential customers and are extremely optimistic about the prospects for the natural plant care sector in 2020. Sustainability is right at the top of the consumer agenda and shoppers are increasingly choosing products based on their environmental credentials. With the ecofective® Child and Pet Safe and RHS Garden Care ranges now firmly established in the marketplace, our innovative portfolio is ideally positioned to cater for the nation's growing appetite for environmentally friendly gardening."
 
In addition to the new partnership with Thompson & Morgan, ecofective® products will continue to be supplied directly by leading distributor Decco,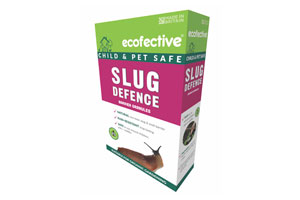 offering fast routes to market for both current brands and future product introductions.
 
Key product messaging that's in synergy with consumer opinion has driven growth of ecofective®'s Child & Pet Safe and Natural collections during 2019, as well as the company's recently refreshed RHS licenced range. Eco-savvy consumers are increasingly demanding products that are safe to use in gardens frequented by children and animals, as well as around wildlife and bees, with the UK-manufactured ecofective® line-up – used by professional growers and adapted for retail – meeting shoppers' requirements.
 
Sales of new ecofective® FerriMax Slug Killer and ecofective® Slug Defence Barrier Granules have been buoyed by the withdrawal of metaldehyde in the summer, catering for retail buyers who sought green alternatives to plug the gap left in the market. A shift away from chemical weedkillers has thrown the spotlight on greener alternatives, with natural solutions such as ecofective® Weed + Moss Killer ideally positioned to meet demand.
 
The ongoing popularity of grow-your-own, combined with growth in the number of consumers gardening organically and embracing vegan diets, has resulted in a healthy order book for ecofective®'s natural plant care range, with ecofective® Bug + Mildew Control, ecofective® Organic Wonder Feed and ecofective® Organic Pour + Feed all performing strongly.
 
Find out more
To find out more about the full ecofective® natural controls range from Sipcam, visit www.ecofective.uk.com.