Tuesday, April 21, 2020 - 10:17
Historic Glasshouse and Greenhouse manufacturer Hartley Botanic has launched a new stately, bespoke Glasshouse as part of its Modern Horticulture range. The Opus Grand Botanic, which was set to be unveiled at Chelsea this year, will officially join Hartley Botanic's unrivalled portfolio of beautiful and elegant structures in May 2020. The Opus Grand Botanic Glasshouse features the same clean lines and concealed engineering which give the Modern Horticulture range its unique contemporary look, but this time with imposing proportions – perfect for modern gardeners looking for Glasshouses large enough for both practical growing and to be used as a lifestyle and living space.
 
Greenhouse ownership is becoming far more diverse, and the image of Greenhouse gardening is changing, ushering in additional, less traditional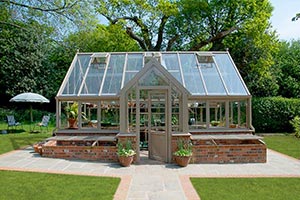 Greenhouse consumers. This is partly down to a consumer zeitgeist which has made grow your own of the moment but is also being driven by a more design-led approach to gardening in general. An increasing number of Greenhouse owners are seeing the value of displaying their colourful and intricate plants in structures which offer cleaner lines and larger windows and Hartley Botanic's Modern Horticulture range offers just that.
 
An architectural garden statement that keeps the importance of horticultural design in mind, a Modern Horticulture Glasshouse is a brilliant fusion of contemporary style and concealed engineering, resulting in a more desirable wider glass pane with an aesthetically pleasing, blended linear design which looks and feels like a traditional Victorian timber framed glasshouse. The combination of superior specification, structural strength, elegance and simplicity, with the option of additional appropriate accessories makes the Modern Horticulture Glasshouse a horticultural home from home.
 
Tom Barry, Managing Director of Hartley Botanic said; "The launch of the Opus Grand Botanic Glasshouse, the 'piece de resistance' of our Modern Horticulture range is really testimony to the demand we are experiencing for a more contemporary and architectural look amongst our customers. There is definitely a sense that the appreciation homeowners had for design inside their homes is now moving into their gardens too. Their Greenhouses may have a functional purpose, but customers also have a very clear design aesthetic with contemporary and architectural styles more popular than ever."
 
All Hartley Botanic's Glasshouses and Greenhouses are handmade, bespoke and made to order. Customers interested in purchasing a Hartley Botanic Greenhouse should visit: http://www.hartley-botanic.co.uk or call 01457 819 155 for more information.
 
'Why Hartley?'
Unrivalled. Unparalleled. Unique. There are Glasshouses, and there are Hartley Botanic Glasshouses. Combining inspired design with enduring quality, nothing quite enhances your garden like a Hartley Botanic. The manufacturer prides itself on five key pillars of service which sets it apart:
 
1.     Beauty and elegance
The incomparable range of simply beautiful and elegant structures means Hartley Botanic can create designs that are distinctive and unique. The Victorian, Heritage and Modern Glasshouse ranges, means customers don't have to go anywhere else to find the widest range of beautifully crafted, high-quality Glasshouses.
 
2.     Structurally superior
Every Hartley Botanic Glasshouse is handmade in the North of England to customers' exact requirements. They are made of the finest materials with unparalleled durability, safety and beauty. All of their sections have a structural purpose. They never take short cuts by 'sticking' aluminium to glass for aesthetic reasons. They are so confident of the structural integrity of their Greenhouses; they offer a 30 year Lifetime Guarantee. 
 
3.     A reputation beyond compare
Hartley Botanic's brand heritage and reputation has been built on trust for over 80 years. Hartley Botanic has earned an unrivalled reputation for crafting the finest Glasshouses and Greenhouses money can buy through the very highest standards of hard-won experience, craftsmanship and service.
 
4.     Unrivalled knowledge and expertise
With a wealth of knowledge and expertise built into every Hartley Botanic Glasshouse, generations of customers have put their trust in the hands of the manufacturer's expert, time served, highly skilled craftsmen. Hartley Botanic creates Glasshouses of distinction from decades of knowledge and care.
 
5.     Exceptional delivery of service
Once an order has been handmade to customers' personal requirements, and to Hartley Botanic's exacting standards, the delivery and installation will be exceptional. The proud team at Hartley Botanic are there to ensure the process runs smoothly, providing customers with the information they need and keeping them up to date throughout.
For similar articles visit our features section