Certainly Wood – www.certainlywood.co.uk - has come up with an ingenious little way for campers & holidaymakers to get their fire going without any hassle. The Kindle Roll has an SRP of £1 and is made up from a neat little bundle of 8 poplar kindling sticks together with one of Certainly Wood's Flamers – a natural firelighter made from wood wool. Also included are easy-to-understand instructions on the best and safest way to light a fire.  
Kindle Rolls make the perfect addition to any campsite shop or included in a welcome pack. What's more, the kindling is grown in Britain and the Flamers made in Britain,  so all very patriotic too.
Certainly Wood is based in the heart of Herefordshire and is very much a family business, with brothers George and Nic Snell at the helm.
Surrounded by acres of woodland, Certainly Wood's HQ is based on the family farm where everything is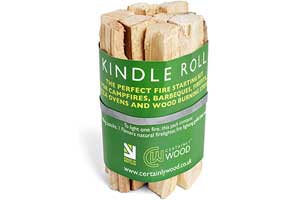 done using traditional methods. It's the largest specialist firewood producer in the UK, having pioneered the kiln-drying process over ten years ago. So popular have their logs become that pretenders to the kiln-dried throne have been springing up all over the place, but primarily sourcing their wood from Eastern Europe. Certainly Wood remains the original and the best and their products are endorsed and recommended by most UK stove manufacturers and distributors.
All their firewood and kindling comes from sustainable British woodlands, locally sourced from within a 100-mile radius of the farm. Certainly Wood only uses hardwood for its products, as it burns for longer with a more intense heat. Kiln-dried logs produce minimal smoke when compared to traditional, seasoned wood, which has a higher moisture content. Damper wood leaves a sooty deposit within the chimney or flue, which can contribute to chimney fires.
Their premium quality products are backed up by excellent, friendly and knowledgeable customer service, which consistently scores over 95% with consumers on independent rating site FEEFO.
Certainly Wood produce up to 20,000 tonnes of kiln dried logs and kindling per year.
For more information about Certainly Wood please click here.