Tuesday, May 28, 2019 - 11:49
FANTASTIC DEALS AVAILABLE
contact our CARELINE for more details today
+44 1634 910003 (open 9:00am - 5:00pm)
AquaSafe                                                        
For natural, safe pond water for fish. Rapidly and effectively neutralises harmful substances in tap water (heavy metals such as copper, zinc and lead) and aggressive chlorine. Also adds essential substances such as minerals and iodine to the water.
AlgoRem
Fast, effective, and safe treatment for green water (suspended algae). Floating algae are bound into biologically degradable clumps that can easily removed by the filter or with a net. Works in a matter of hours.
FilterStart
Supports the reintroduction of live bacteria in the pond after winter (to be used when the water temperatures rise above 10 °C). Includes highly active filter bacteria to combat ammonia and nitrite.
Efficient cleaning bacteria to fight against sediment and decay in the filter.
MediFin
Effective treatment for most common pond fish diseases. Combination of active ingredients effective against bacteria, parasites, and fungi. Supports wound healing by preventing secondary infections. Harmless to fish, plants and filter bacteria.
AlgoFin*
Effective and safe treatment for persistent blanketweed and other pond algae. Intensive treatment for most frequently occurring algae types (blanketweed, floating algae and slime algae). Prevents further algae growth in the long term.
Visit www.tetra.net/pondseason for more information

Tetra Pond Test 6in1
Determines the pond water quality in a matter of seconds. Tests 6 important water values in just one step; general and carbonate hardness (GH+KH), nitrite (NO2), nitrate (NO3), pH value and now with chlorine (CL2). In case of critical water values, targeted action can be implemented.
* Use biocides safely. Always read the label and product 

information before use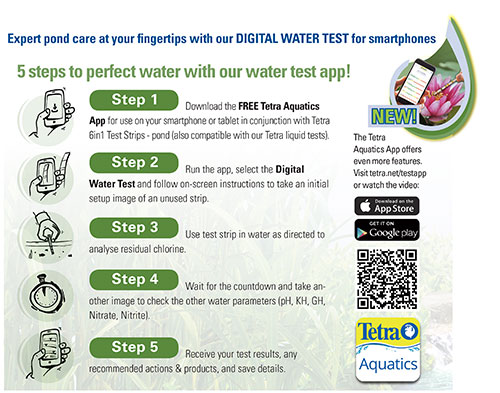 The Tetra Pond Food and Care range has everything you need to keep your pond looking great, from complete food through to simple solutions to problems such as algae & sick fish, through to products that keep the pond water balanced and problem-free. With more than 60 years of experience and the industry's largest research and development operation, Tetra know how to keep your pond and your fish in perfect condition; and with less hassle for you, there is more time to relax and enjoy your pond!
Tetra Pond Sticks
Complete staple food for all pond fi sh. Softens quickly, yet remains stable in the water, allowing fish to feed easily. New improved formula with less phosphate, for better water quality & reduced algae growth.
Contains all essential nutrients and vitamins in an easily digestible format. Suitable for all pond fish.
For feeding at all times of the year when the water temperature is above 10°C.
Tetra extrusion process ensures high digestibility and excellent nutrient stability.
Tetra Pond Koi
High quality staple food in floating stick form, especially developed for the healthy, balanced diet of Koi.
Softens quickly for easy eating.
Natural colour enhancers (high quality carotenoids) bring out the red, yellow and orange colour pigments to the full brilliance.
Good acceptance and digestibility of the sticks ensure low water contamination and improved water quality.
Tetra Pond Variety Sticks
Mix of three different varieties of food stick, to provide a complete yet varied diet for all pond fish.
Pond Sticks to promote health, vitality and colour.
Koi sticks for improved colouration.
Wheatgerm sticks for improved.
food utilisation and digestion
Feed all year once the water temperature reaches 10°C and excellent nutrient stability.
Tetra Pond Holiday
Patented formula containing tasty daphnia, essential vitamins, trace elements and minerals which provides healthy nutrition for up to 14 days without polluting the pond water.
Visit www.tetra.net/pondseason for more information on achieving your perfect pond.

We are proud to be the winners of "Brand of the Year" for Fish Food
Tetra Goldfish Mix 
Premium food mixture specifically formulated for goldfish, consisting of flakes, sticks and gammarus.
Tetra Pond Wheatgerm Sticks
Highly digestible food sticks for feeding fish (including koi) during the winter, once temperatures fall below 10°C.
Tetra Pond Colour Sticks
Complete food with additional colour enhancers, for rapidly developing natural colouration. Ideal for feeding after the winter, or to new fish.
Tetra Pond Sterlet Sticks 
Complete food formulated for the unique dietary requirements of sterlets and other sturgeon species. Can be fed all year round.
TetraPond Flakes
Complete flake food for all pond fish, especially good for smaller fish.
Tetra Pond Pellets
Complete daily diet for all pond fish.