RHS announces first licensed range of cleaning and maintenance products
Monday, October 22, 2018 - 13:37
The Royal Horticultural Society (RHS) has announced the award of a licence to Assured Products Limited, a leading UK branded chemical manufacturer, for the first-ever RHS range of outdoor cleaning and garden maintenance products.
The range will include a weed killer, a moss killer, a path, patio and decking cleaner, a greenhouse cleaner, an outdoor fabric cleaner, an outdoor fabric protector, a UPVC cleaner and protector, bug and mildew control, a slug killer, and a wood preservative.
Every product will be housed in easy-to-use, clearly labelled containers or spray bottles, and all will contain the RHS logo. In addition, all will use natural ingredients where possible – an important factor in the choice of Assured Products Limited as an RHS partner.
For example, the new RHS Weed Killer and RHS Moss Killer use acetic acid, a component of vinegar, as a natural and effective ingredient that quickly kills weeds and moss. The RHS Path & Patio Cleaner is also from the acetic acid range, while the new RHS Artificial Grass Cleaner, RHS Greenhouse Cleaner and RHS Outdoor Fabric Cleaner, which use probiotic technology, harness bacillus bacteria to do the job of organic degradation, cleaning and odour control. The new RHS Bug and Mildew Control controls pests, deters powdery mildew, and nourishes and feeds the plant when it's needed most. The new RHS Slug Killer is approved by organic growers and made from a ferric phosphate formula, ideal for the upcoming wetter months.
The range was launched at Glee, the UK's most valuable garden and outdoor living trade show, at the NEC in Birmingham, where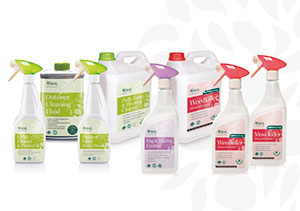 it enjoyed a very positive response.  It is available at retail at garden centres and multi-site retailers as well as online. The target market for the range is keen and responsible home gardeners across the UK.
Assured Products Limited produces a wide range of high-quality cleaning and odour control products, manufactured at its own blending and distribution facility. Based centrally in the UK, Assured Products utilises the comprehensive technical experience of its chemists, enabling it to formulate, produce and distribute products to meet the varying needs of its customers.
Peter Graham, Managing Director and Owner, Assured Products Limited, says: "The new RHS range of cleaning and garden maintenance products has been developed to be effective and have minimal impact on the environment. We are delighted that these products can boast the approval of the country's leading gardening charity. 
Shereen Llewellin, Licensing Executive, RHS, says: "This is an enormously popular and important gardening category but we have taken time in order to find a reliable and responsible partner. It was worth the wait. We're delighted to be partnering with Assured Products Limited on this range."