Monday, October 22, 2018 - 13:32
1. Keeping plants sheltered from frost
Gardening covers are always a key trend for the colder months - perfect for keeping plants protected from potential damaging frost. Many people see winter as the time to sit back and let nature do its thing, when actually winter is the time for hard work. Plant pots can quickly be blown over and cold weather can make a garden look like less than optimal.
Investing in garden plant frost protectors, like fleece jackets or sheets, can alleviate the harsh effects of cold weather on your plants. Being proactive during the winter months will pay dividends when families look to make use their outdoor spaces more in the summer months.
2. Clean and green
Gardens can quickly become covered in twigs, branches and leaves in the winter due to strong winds and the seasonal changes. If left unattended, piles of leaves can cover small plants, blocking them from the sun and killing them in the process. Not to mention the bugs that will group up in this area.
People have traditionally used rakes to get rid of annoying garden debris, but this labor-intensive solution is often too difficult for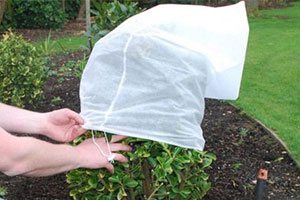 the older generation or people who are in a rush. Cordless leaf blowers provide an easy solution, giving you a powerful tool to keep your garden looking tidy and they're only growing in popularity.
3. Baby, it's cold outside
After one of the warmest summers on record, many people will shudder at the thought of retreating back indoors for another 4-5 months. Nevertheless, a trend for this winter season is continuing with the inside/outside lifestyle many of us enjoyed recently. A simple way to stay warm is by using a patio heater or fire pit.
Patio heaters come in all shapes and sizes, from gas or wood burners to electric heaters. A top tip is to ensure that your plants aren't directly underneath the heat lamps, as they can quickly dry out and stop looking their best. Rattan patio heaters have seen a huge growth in the market this year and we only expect this to continue in 2019.
Fire pits are another big trend for this winter, providing a stylish way to stay warm outdoors. Fill one with twigs and branches from your garden (providing they're dry) and enjoy a hot drink with your friends while you take in the winter ambiance - blankets may be required!
4. Winter design tips and tricks
The image that typically comes to mind with garden design is an environment full of colourful flowers and wildlife, meaning we often neglect to design our gardens for winter interest. However, we can keep our gardens looking fresh despite the frost by putting focus on other areas of our garden.
For instance, during the colder months we will see trees becoming a real focus point for gardens, providing a dark contrast to the icy blue winter skies. Hollies and firethorn can also give unexpected pops of colour to a winter garden. Be playful and use plants that thrive in the frosty weather.
Hydrangeas are often considered a nuisance, however, a small amount of effort in the winter allows you to reap the rewards later on in the year. Trim smooth hydrangeas far back in late winter, and you will later have much larger blooms due to the winter pruning! You can even grow blue hydrangeas later on in the year if you use soil acidifiers, but this is definitely not one for the beginners out there.
One final garden design tip is pick up a plant or two that thrive in the frosty conditions. For example, pansies are the perfect flower to plant in winter as their hardiness allows them to survive in low temperatures. If planted in late winter, pansies are ready to bloom by early-spring, instantly bringing your garden to life. Pansies will still need to be protected from frost, however, so make sure to cover them with pine straw or a specific garden frost protector to avoid them becoming dehydrated.