Monday, February 19, 2018 - 16:15
This month marks the launch of a new electric barbecue which can be controlled via your phone and sets a new standard for the humble barbie.
Grillson, made in Germany, is an electric wood pellet grill which is unlike any other on the market. It can do everything from cooking pizza to searing steak and can be linked to an app on your phone, which means you can control your barbecue from anywhere in the World.
Leading barbecue expert Paul Yates, who reviews barbecues on his site www.barbecue-smoker-recipes.com is a big fan of the Grillson range. He said: "The Grillson is going to revolutionise the barbecue market.
"When it comes to outdoor cooking, it probably doesn't get easier.  Forget hours trying to light charcoal and being glued to the barbecue to end up with a burnt sausage, with the Grillson simply plug it in, put the food on the grill and specify on your phone how you want it cooked, the Grillson does the rest!"
Wood pellet grills are relatively new to the UK, but the Grillson is unique, as unlike other wood pellet grills which can only cook like an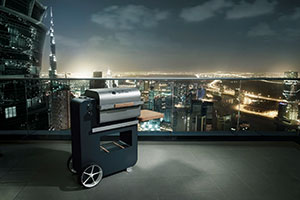 oven, the Grillson can also act like a true barbecue and is capable of searing steak, and acting like a traditional grill. It can also reach temperatures far higher than any other wood pellet grill on the market, which means it can also be used as a pizza oven.
Paul said: "The Grillson range is the top of the tree when it comes to a wood pellet grill.  It's the first time we have an electric powered barbecue which offers the same versatility as the traditional charcoal barbie." 
Cooking works by igniting wood pellets with an electric glow plug, air jet technology then blasts heat and fire into the grilling area. The beauty of the technology is it not only makes barbecue cooking a breeze, with accurate and stable temperature, according to Paul it actually can produce better tasting results, with the smoke from the wood pellets offering a superior way to flavour the food.
There are five models in the range and the Leif Grillson Premium and the Bob Grillson Premium offer the app control on your phone.  Temperature probes in the barbecue relay information to the app which alerts you when the food is ready to serve. 
The app offers the ability to specify personalised cooking results for different meats, for example users can select beef, and then select their preferred option e.g. medium rare, the app will then alert users when the beef is at the perfect consistency.
The Grillson products start at £2,399.00 for the Leif Grillson to £3,999.00 for the Bob Grillson Premium S.  For more information visit www.bbq-barn.co.uk/grillson.php  or en.grillson.com