Overcoming the returns challenge in garden retail
Tuesday, October 13, 2020 - 15:07
Year on year, eCommerce sales continue to surge as more of us swap the high street in favour of shopping online from the comfort of our homes. This trend has only been exacerbated in recent months, as the pandemic and subsequent lockdowns meant more shoppers than ever were encouraged to buy online. Spending more time at home pushed many Brits to tackle those DIY to-do lists. This resulted in a growth of almost 50% in online sales of home and garden retail products compared to the year before. Whilst any boost in sales is a real positive for businesses, an increase in online deliveries inevitably raises the problem of one of retail's biggest headaches – returns.  
There is no getting around it, returns play a huge role in day to day business operations and as long as eCommerce continues to flourish, this will continue to be the case. At any time, an average of 22% of all parcel types are returns.* This means that returns are not only time consuming, but very costly for retailers. In some cases, up to a third of retail margins are being lost as a result of ineffectively managed returns.*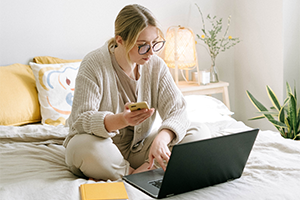 Great returns offer a vital safety net for consumers
For today's shopper, the reasons for returning items goes beyond them being faulty or damaged - although these factors will always form part of the returns market. The biggest hurdle that online shopping presents for consumers is the inability to physically see and handle the products they are buying. There is always an element of risk that the products may not be as described, or the quality might not be quite as expected. 
This is particularly important for sales of specialist products such plants or flowers. Not only does the risk of damage feel more likely with delicate products, but the fact that no two products will be the same could leave the consumer feeling there is a greater risk that the product might not meet their expectations. To give them the confidence to buy, up to 78% of consumers now read through the full delivery and returns information before making a purchase, and up to 1 in 5 consumers abandon a basket if they deem a returns policy to be unsatisfactory* This means that for retailers, failing to implement a good returns experience could cost you customers.
How clever returns implementation can help boost sales
In a digital world, it is no surprise that speed, flexibility and convenience are the key drivers for consumers when it comes to their returns. With more technology at their disposal than ever before, shoppers expect to be able to manage their returns from any one of their devices. They also expect refunds or exchanges to be dealt with swiftly. 
Speedy refunds are beneficial to retailers too as once a refund is made, shoppers can be tempted to re-spend that money almost immediately.* This means that pairing your returns with clever promotions and sales support could help turn a refund into a sale. 
The increasingly busy nature of our lifestyles also means that having a range of convenient returns options are another top priority for customers. This can be a challenge for retailers with international shoppers in particular, as expectations can vary widely depending on the country. Considering a quarter of UK sales travel to cross-border destinations*, it is critical not to neglect international shoppers when considering your returns strategy. 
Implementing a market-leading and cost-effective returns solution 
Managing all these varying consumer demands in a timely and cost-effective way can feel like an overwhelming task. Partnering with a multi-carrier expert could help you create a seamless returns experience for your customers. GFS Global Returns Pro is one such solution that helps you give your customers a quick returns process in under a minute. Which allows you to dynamically offer alternative products for exchanges and help you get greater control over customer refunds.
In addition, having an overarching view of your returns parcels will give you more visibility, and help streamline warehouse operations. Having the ability to view tracking history means you can have access to more detailed shipping information. This will give you a better handle on what is being returned, what condition the item is in and why it is being returned - meaning you are no longer left in the dark. 
Shoppers are making their demands for reliable, convenient and flexible returns clear. Make sure you keep it simple, cost-effective and hassle-free for you and your business too.
* IMRG Returns Review 2020