Create an oasis of calm in your living space and bring the outdoors in this spring, with the all new collection at Dobbies.
The new selection of cushions, throws, accessories and indoor greenery is the perfect way to give your home an interiors spring clean sweep for the season ahead, with simple additions to quickly refresh rooms.
Suzanne Chapman, Indoor Living Buyer at Dobbies Garden Centres, has curated the range based on leading timeless trends and Dobbies heritage in nature. The collection includes floaty floral print cushions, which Suzanne says "work perfectly against a backdrop of neutral tones and paired with a selection of gorgeous greenery to capture the botanical look."
Adding greenery to your space is not only beneficial to the overall styling, but also creates a healthier home. There are a range of indoor houseplant styles at Dobbies to choose from, with the recent trend for indoor hanging planters working well if you are short on floor space.
Benefits of botanical styling…
With the average person in Britain spending over 90% of their time indoors*, houseplants are a breath of fresh air for inside spaces, they are brilliant anti-pollutants.
Whilst adding an air of natural zen, they also reduce stress and much more.
With wonderful air purifying qualities, Dobbies top plant recommends for your home or office include Nephrolepsis, Chlorophytum, Spathiphyllum, Dracaena, Ficus benjamina (commonly known as weeping fig) and Sanseveria.
Hanging plants are very on trend and are also perfect for saving on shelf or desk space. The new Kokodama range will add greenery to any room no matter how big or small.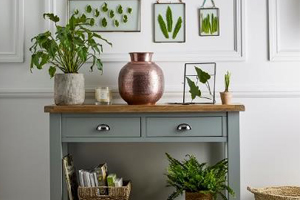 Top spring clean houseplant tips…
Houseplants need to be cleaned occasionally, too – just wipe the leaves with a damp cloth. This is not just to keep them looking good – removing the dust ensures good health. Take off any foliage that is yellowing, and trim damaged leaves of larger plants with sharp scissors at the same time.
As with outdoor container plants, houseplants may need repotting and feeding in spring to keep them healthy. Some, such as orchids, have special feeds to encourage flowers. Dobbies has some great advice and top tips for houseplant care over on Dobbies.com. 
Spring Greens in the Frame…
Press and frame your favourite foliage to create a Pinterest-worthy feature wall in hallways and living spaces. The new collection of beautiful Nkuku frames at Dobbies come in an assortment of shapes and sizes, making them the perfect way to display this super simple DIY idea.
Find your local Dobbies Garden Centres store and browse the online range